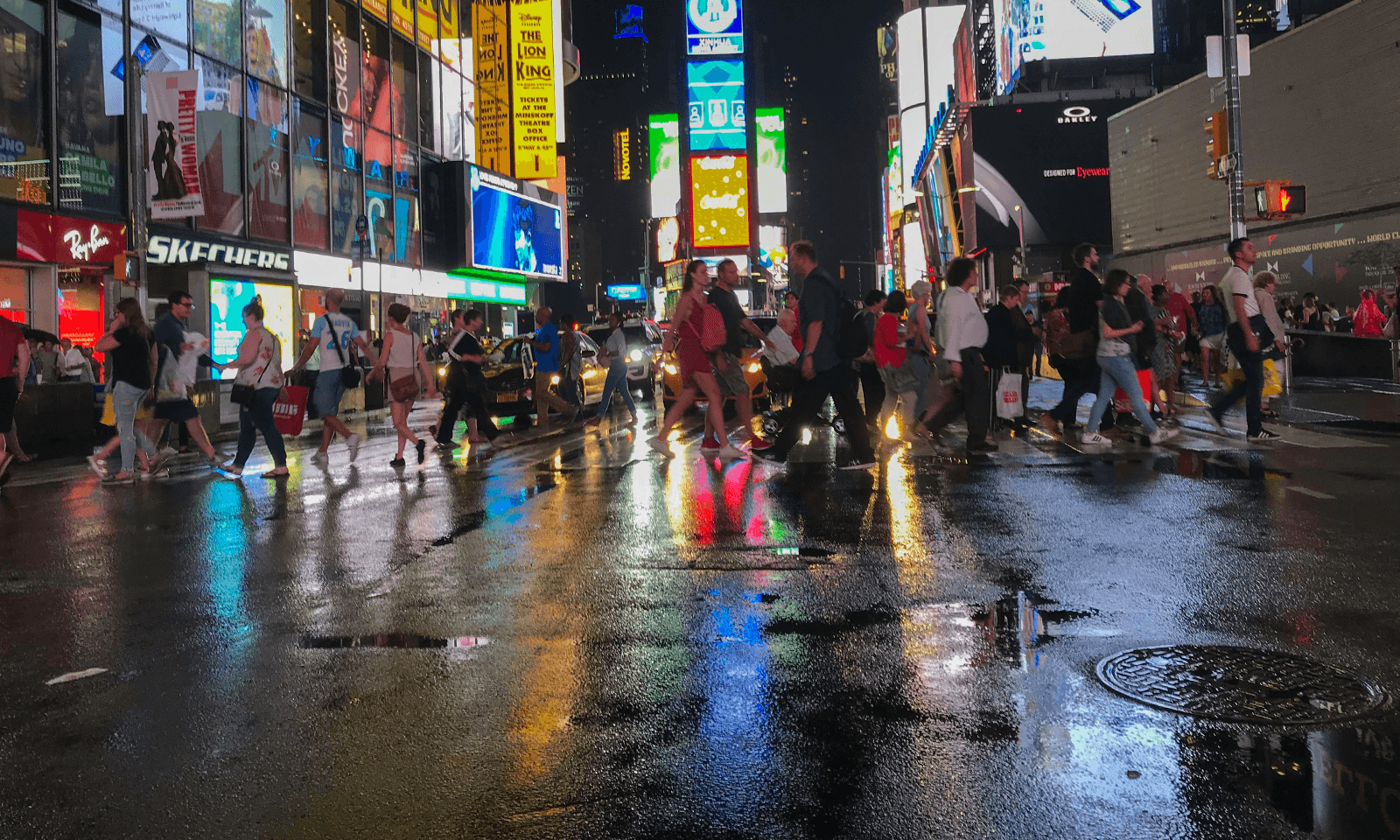 So you're going to the city of lights. Here's a few tips I picked up on my trip.
Airport Transfer
After arriving at JFK we took a yellow cab to downtown Manhattan. The fare a flat rate of $52 so you don't need to worry about traffic. If money is more of an issue you could also get the AirTrain and Subway ($7.25/person) but be aware there can be a lot of stairs and walking involved.
Maps and Subway
In my opinion the subway is the best way for tourists to get around the city. Get yourself a MetroCard, journeys cost $2.75 and transfers between lines are free. You can actually share a single MetroCard between up to 4 people, just pass the card back to the next person.
Get the the MyMTA app. It makes navigating the subway really easy and there's WiFi in every station. I also found it helpful to have an offline subway map with me (NYC Subway app).
If you aren't going to have data on your trip, (you don't really need it, there's WiFi everywhere), then it's also worth downloading the area on Google Maps or maps.me.
Times Square
Once we'd checked in to our hotel and had a bit of a break we had our first opportunity to look around the city. In my opinion, Times Square is a tourist trap and should be avoided wherever possible but you're visiting New York, so you have to see it right? Enjoy the lights and bustle of the square, but be careful of a few things:
Street performers in costume (batman, superman, etc) will approach you and offer a picture. If you agree, they'll want payment.
Be aware of pickpockets in this area. Particularly when watching street performances.
Food and drinks here come with heavily inflated tourist prices, you're better off walking a few blocks away to get some food.
We were quite tired from our flight after times square so decided to go to bed and get up early to beat the crowds.
The Empire State Building
This was the first of our three items on the NYC Explorer Pass. We had the pass for 3 items but in retrospect could have probably done 5-7. It works out significantly cheaper than paying the standard ticket price for most places.
We arrived at the empire state building early (9am) and were pleasantly surprised to not find any queues. We were up the tower in under 30 minutes. Other people we spoke to had waited many hours in line so definitely worth arriving early!
If you're more on a budget you could consider the Top of the Rock instead. Plus it's quite difficult to get the empire state in your Instagram picture if you're stood in it. We did one in the day and one at night, if you're tight on time I would definitely recommend the harbor lights tour (see below) rather than both buildings.
Free Walking Tours
Anyone that's ever spoken to me about travel will know I recommend these all the time. Free Tours By Foot gave us a great tour of Greenwich, Chelsea and the High Line, but choose the tour(s) that best suit you. It's a pay what you feel service but I would say at least $10 per person is appropriate if you enjoyed the walk. Especially considering competitors are charging over $30.
Statue of Liberty
Book tickets in advance at Statue Cruises. Access to the Crown sells out months in advance and the pedestal can be sold out weeks before in peak season. The pedestal tickets also get you access to the museum and away from the crowds so worth considering.
Harbor Lights by CircleLine
The Harbor Lights Tour was the final item from our NYC Explorer Pass ($10 extra) and it did not disappoint. The tour takes you right around the bottom of Manhattan to see all the major sites, including the Statue of Liberty and Brooklyn Bridge at night time.
You need to physically go to the tour office on 42nd Street & 12th Ave to book your tickets which I would recommend doing in advance. Their ticket office is right next to the Intrepid Sea, Air and Space Museum which is also worth a visit.
Make sure you arrive for boarding early. Seats are on a first come first served basis so if you want to make sure you're outside you need to arrive early. That said there is plenty of room to move about on the boat so it's not too much of an issue.
Central Park
There's all kinds of free events in central park throughout the year so have a look what's on when you in the city and get tickets early. Central park is great to walk around and is a happy escape from the city.
There are very few food and drink outlets in the park itself so walk to the edge if you need to refuel, or bring plenty of drinks and snacks with you if you plan on staying a while.
Finally
If like me you've never visited New York before then all this talk of Avenues and Streets can sound really confusing. It's actually really simple and is just a big grid for the most part. You'll figure it out.
Finally, the weather in New York can be quite extreme. Make sure you pack for the season and always bring a raincoat.
Thanks for reading my first blog post! I'm going to be posting about my travels so my friends and family can keep up with what I'm up to. Check back for more tips and travel ideas!